Risorse per i prodotti Atlassian
In questo post andremo ad elencare alcune risorse disponibili per il mondo Atlassian, siano essi applicativi, documentazione, libri, ebook, etc.
Libro su Amministrazione di JIRA
Segnaliamo questo libro (in inglese) su JIRA. Si tratta di : JIRA Strategy Admin Workbook, di Rachel Wright.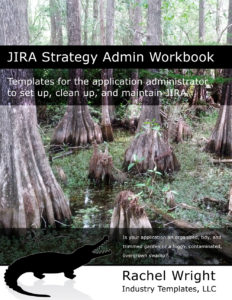 Il libro contiene :
152 raccomandazioni per aiutare i JIRA Administrator a settare, mantenere pulito ed efficiente JIRA;
33 esempi reali di problemi da evitare,
Best Practices, cose da fare e da non fare per ogni area di amministrazione
Tanti e tanti altri esempi e consigli sulla amministrazione di JIRA.
Più che di documentazione, l'obbiettivo del libro è quello di essere un compendio di suggerimenti e consigli pratici che permettono ad ogni amministratore di arrivare a gestire al meglio JIRA :-), come indicato dalla stessa autrice :
The JIRA Strategy Admin Workbook will save you time, money and frustration.

This book is different – it's not documentation.  It's recommendations from years of cleaning up horrible JIRA configurations!  It's about what you should do, what you shouldn't do, and why.
Maggiori informazioni sono reperibili consultando il seguente link. Attendo commenti 🙂
eBook gratuito su XRay – Test su JIRA
Segnalo anche questo ebook sui test in JIRA, della Xpand IT, dedicato al mondo dei Test con JIRA. Abbiamo già ampiamente dedicato molti articoli del blog a tale argomento, presentando diversi  addon, quali Kanoah Tests e XRay, della stessa Xpand IT.
Adesso la XPand IT propone un ebook dedicato, riportando la loro esperienza in materia e cercando di metterla a disposizione degli utenti JIRA. Maggiori informazioni sono presenti in questo link.
Ultimo ma non ultimo
Segnaliamo anche una risorsa su di un argomento molto importante: DevOps. Si tratta di un libro sull'argomento, presente nel blog della Atlassian, in cui si evidenzia un caso di uso di DevOps e di come costruire un team di DevOps 🙂 e dove si viene anche rimandato ad un altro blog post, sempre della Atlassian, dove si spiega il perchè viene utilizzato DevOps.
L'ebook, in inglese, può essere scaricato al seguente indirizzo del blog della Atlassian.
Conclusioni
In questo post abbiamo fornito un ulteriore elenco di risorse a disposizione dei prodotti Atlassian e delle moetodologie che mette a disposizione. Seguiranno ulteriori post. 🙂
Likes
(

0

)
Dislikes
(

0

)
---
Ti è piaciuto il post? Vuoi una consulenza sui prodotti Atlassian o sui servizi offerti da Artigiano Del Software?
Contattaci.
Scrivi una mail al supporto Artigiano
. Saremo ben lieti di rispondere e aiutarti nella consulenza.
---
---
Risorse per i prodotti Atlassian